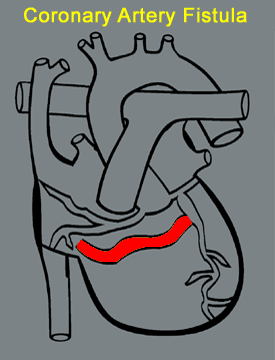 (rollover to compare with normal)
What Are Its Effects and Treatments?
Children with coronary artery fistula normally show no symptoms other than a heart murmur. The size and significance of the fistula may be determined through echocardiography, angiography, and a cardiac catheterization procedure. A coronary fistula may cause the coronary artery to become quite enlarged over time and affect heart function by stealing blood flow away from the normal coronary arteries.
After diagnosis, closure of the opening is often performed because of the danger of complications, such as a rupture of the fistula, chest pain or a heart attack brought on by part of the heart muscle not receiving sufficient oxygen, or the development of endocarditis (inflammation of the heart tissues). In some cases, there will be a number of fistulae present.
Closure of a coronary artery fistula may be achieved through surgery or with the use of a coil or occlusion device introduced through a catheterization procedure. Most often, the surgical procedure involves closing the fistula with sutures on the surface of the heart chamber it enters, though there are several other approaches that may be used.